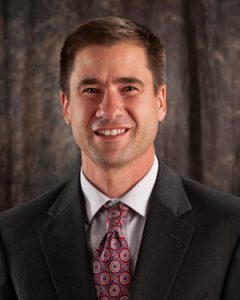 Doug Gruenbacher, MD
Quinter, Kansas
I am grateful for the opportunity to be a candidate for KAFP Delegate. I enjoyed serving last year as delegate and would be honored to continue. Prior to serving as delegate I served 3 years as alternate delegate. I have also served as KAFP President and most recently have been chairman of the AAFP Commission for Governmental Advocacy.
I am hopeful to continue serving as your Delegate to the AAFP Congress of Delegates. I view this position as your voice to the Congress. Many of the decisions before Congress are unanimous, however, at times, there are controversial topics that require careful listening and evaluation of the issues. I promise to do my best to listen and to try to put the KAFP and its mission as the foundation of every vote.
I am excited to assist Dr. Brull in her candidacy for the AAFP Board of Directors. She is a wonderful candidate who will represent us well and will make a tremendous impact on the AAFP.
Thank you for this opportunity. I will do my best to serve the KAFP if elected to this position.
Kansas Academy of Family Physicians