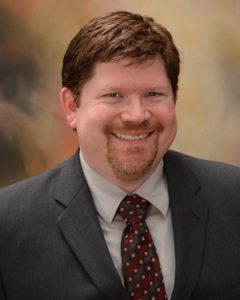 Jared Johnson, MD
Wichita, Kansas
As my current term as District 3 Director on the Kansas Academy of Family Physicians board of directors comes to a close, I have been looking back on these last couple of years to reflect, and I feel a great sense of pride. Not pride in myself or any of my own accomplishments, but pride in just belonging to and playing a role (however small) in an organization with so much going for it. There are times when it seems our profession must defend itself on so many fronts that it's hard not to be pessimistic, but I never feel that mood in our academy. Instead we face these challenges optimistically, with courage and thoughtfulness.That's an attitude that I want to reflect as I continue to advocate for our profession and the people of Kansas, hopefully as the Secretary of the KAFP board of directors.
As a medical student at the University of Oklahoma, I was involved with the Oklahoma Academy, and I have attended KAFP Annual Meetings regularly since I was a resident. However, involvement as a board member is somewhat new for me, so you may not know much about me. I graduated from residency at Wesley in 2010, and for the last three years I have been practicing direct primary care. I have been very happy in DPC, and I am glad for opportunities to discuss it whenever someone asks me about it. I see it as one of many possible avenues in achieving the quadruple aim; I think it's the best avenue for some physicians (such as myself) and patients. But as passionate as I am about DPC, I do not see it as a panacea for our entire healthcare system. I do not think there is any one idea out there that would fit that description. Instead I think it will take many smaller reforms to achieve the quadruple aim and get healthcare in America where it needs to be. Currently much of the conversation revolves around who will pay for healthcare, and this is a conversation that we need to have, especially in Kansas. Ultimately, though, I would like our dialogue to become less about who should pay for it, and more about why it is so expensive in the first place, and how we can get those costs to come down.
Transforming healthcare in America will be an ongoing process; we will need people to be involved in the KAFP and AAFP to continue that work. It is my hope to continue to be one of those people as Secretary of the KAFP Board of Directors. Please know that I am available to our members who have ideas or concerns for the board. I hope you will support me as a candidate.
Kansas Academy of Family Physicians