KU Wichita Faculty Director Candidate
To represent University of Kansas School of Medicine Wichita/Salina Campuses on the KAFP Board of Directors.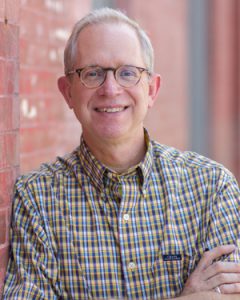 Rex Keith, MD, FAAFP
Wichita, Kansas
I am a lifelong Kansan. After high school at Shawnee Mission South I went to the University of Kansas to become a chemist. My faculty advisor convinced me that going to medical school would be a good backup plan. I saw this as a possibility because the one physician I knew growing up, Dr. Garrison my family doctor, had impressed me. He was always friendly and kind and helped guide me through minor health issues as well as a broken arm and a case of pulmonary histoplasmosis. My backup plan became a reality when I was accepted in the class of 1985 at the University of Kansas School of Medicine. During medical school the ideals of family medicine continued to appeal to me, and following graduation I found myself at St. Francis Hospital in Wichita Kansas for family medicine residency training. At that time, as currently, Kansas had some of the best family medicine residencies around. Shortly after graduating, the program director offered me a 6-month, half-time faculty position, and this initial opportunity led to a 30 year career of working in family medicine residency education.
Serving as the Wichita/Salina Campus Faculty Director, I would be very familiar with what is necessary to maintain a good supply of quality family medicine physicians for the state of Kansas. Having programs for high school and undergraduate students to not only explore healthcare as a career but the field of family medicine is critical in keeping interest high. I would advocate for promoting an admissions process that also understands the needs of Kansas for primary care physicians, particularly family medicine. Also maintaining our excellent family medicine residency programs in the state is very important. I would advocate for legislation for improving residency funding as well as maintaining and expanding programs such as the KU Scholars in Rural Health and the Kansas Medical Student Loan programs. Residencies often have patients who are uninsured or underinsured, and so I would support advocating for increased access to primary care for all Kansans. This would include supporting Medicaid expansion in Kansas, and better payments for primary care services. This makes good economic sense as family doctors are proven to be cost effective in delivering health care. For the many family medicine residency graduates practicing in rural Kansas having a working local hospital is important. Advocating for these hospitals is critical for our rural physician and their patients. Finally, the Academy needs to support our Family Medicine physicians in the state with quality continuing medical education and patient education programs to promote healthy lifestyles.
Family Medicine in Kansas is strong. Keeping it strong and vibrant by supporting the above positions is what I would like to do. Thank you for considering me for this position on the board.
Kansas Academy of Family Physicians