District 4 Candidate
To represent Barber, Barton, Comanche, Edward, Harper, Kingman, Kiowa, Pawnee, Pratt, Reno, Rice, Rush, Stafford and Sumner counties.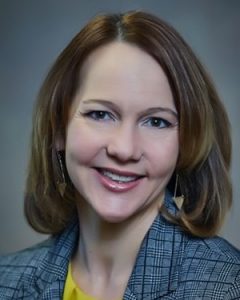 Shana Jarmer, MD
Wellington, KS
I was raised in a rural community in Northwestern Kansas, graduated from The University of Kansas School of Medicine in 2004 and completed residency training at Via Christi Family Medicine. I have had the privilege of practicing full spectrum family medicine for the last 10 years in Wellington, Kan. Most of my days I feel accomplished, efficient and like I was able to truly help my patients and provide good medical care. Other days I leave the office feeling defeated by the amount of paperwork, prior authorizations, and barriers of insurance and access to care. I am hoping to get more involved in the Kansas Academy to help family physicians have a voice in these matters at the state and national level. As your district director, I will advocate for patient rights and issues that directly affect our ability to care for our patients.
Outside of medicine, I enjoy spending time with my husband Jason and our three children. We like to travel and I enjoy exercise including running and volleyball to help me relax. Too often my nights are spent charting on the computer and I am always looking at ways to become more productive and efficient. As your district director I will strive to help family physicians navigate the new road map that is MIPS and MACRA and to be a successful Patient-Centered Medical Home.
Kansas Academy of Family Physicians