District 8 Candidate
To represent Cheyenne, Decatur, Ellis, Gove, Graham, Logan, Norton, Osborne, Phillips, Rawlins, Rooks, Russell, Sheridan, Sherman, Smith, Thomas, Trego, Wallace counties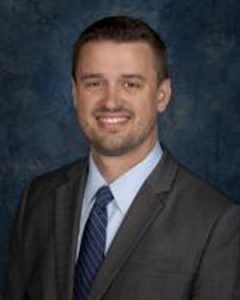 Dereck Totten, MD, MPH
Colby, KS
Having been born and raised in rural Marysville, Kan., family medicine was the only 'specialty' I knew. Before starting medical school, I worked as a caretaker for a quadriplegic patient in Marysville. This is where I first developed my passion for health care and ultimately the beginning of my understanding of the unique health care needs in rural Kansas.
I then continued to gain experiences in rural Kansas during my undergraduate education while working as a certified nurse aid in Hanover, Kan. In Hanover, I was immersed in a medical practice where I experienced firsthand the victories and struggles of a rural health hospital/clinic. Those experiences led me to pursue and complete a Master's of Public Health and my Medical Degree at KU Med. I met my wife during medical school and we now practice together in Colby, Kan. Both of us wanted to pursue a career in full scope family medicine in rural Kansas, therefore we chose Smoky Hill Family Medicine residency in Salina, Kan. to complete our training. Since starting practice in Colby in 2016, we have been providing full scope family medicine, with obstetrics, at Citizen's Medical Center. With my public health background, I also proudly serve as the health director for Thomas County.
I have been honored to serve District 8 these past two years. My desire is to continue as my district's representative and to provide an active voice for the healthcare needs of rural Kansas and their family medicine physicians. Physician shortages continue to plague this region of the state. Working with our medical schools, hospitals, and communities, we need to bring skilled physicians to the region who will support our short and long-term health care needs. I will continue to provide a strong voice to our state and national legislators. It is extremely important for these individuals to understand the importance of Medicaid expansion, service needs for rural Kansas, and the importance of physician led healthcare teams. If re-elected as our district director, I would be extremely excited to continue to advocate for our patients, providers, and family medicine. Thank you for your support.
Kansas Academy of Family Physicians