Immunization Winter Webinar Series Lunch and Learn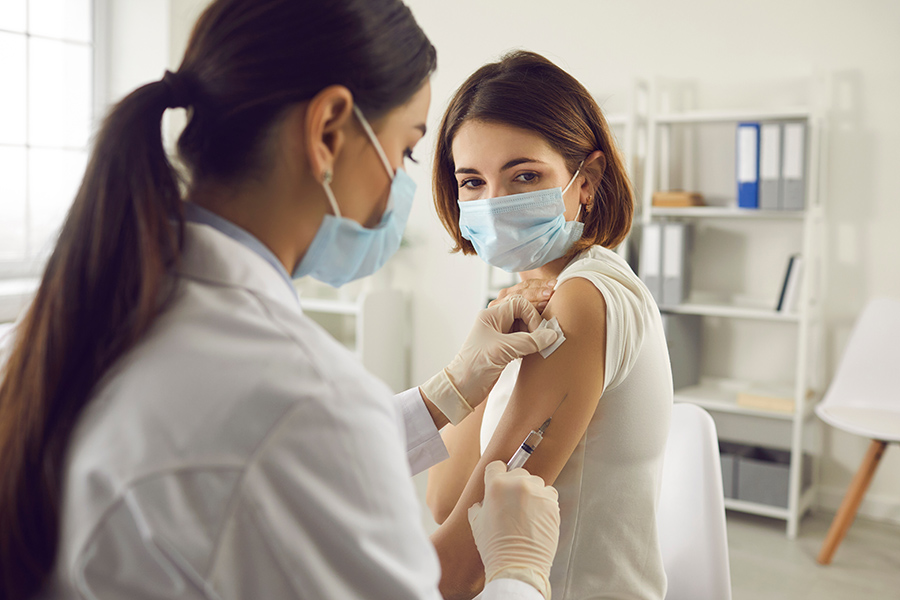 Earn up to 3 FREE CME thanks to the Immunization Enhancement Partner grant through KDHE.
Webinar 1: Addressing Vaccine Hesitancy Post COVID-19
Wednesday, February 1, 2023, 12:15-1:15 PM
Speaker: Belinda Vail, MD, MS, FAAFP
Biography: Belinda Vail, MD, MS, FAAFP, is the David M. Hueben Endowed Professor and Chair, Department of Family Medicine, University of Kansas School of Medicine. She completed medical school and family medicine residency at the University of Kansas School of Medicine, and then fellowships in Executive Leadership in Academic Medicine (ELAM) at Drexel University, Philadelphia, PA, and the National Institute for Program Director Development, AAFP, Leawood, KS. She has been teaching in all four years of medical school and in the Family Medicine residency since 1990. Since 1994, she has been a speaker for the American Academy of Family Physicians CME courses including Board Review and Board Review Express, Child and Adolescent Medicine, Internal Medicine Update, Emergency and Urgent Care, Cases in Family Medicine, and Gynecology and Obstetrics and has covered the topic of immunizations multiple times over the last 25 years. Her awards include AOA and Gold Humanism Society, the Rainbow Award for Heroes in Medicine, the Jayhawk Award for lifetime achievement in mentoring, the Glendon Cox Leadership Award, the Kansas Academy of Family Medicine Exemplary Teacher Award, and University of Kansas Bohan and Chancellor's Awards for Teaching.
Learning Objectives:
Understand the reasons for vaccine hesitancy stated by patients and parents
Examine the misinformation to which patients are exposed
Develop a method for addressing vaccine hesitancy with your patients
Assess the impact that you are making on the vaccine choices of your patients.
Webinar 2: Vaccine Harmony: A Deep Dive into VFC
Wednesday, Feb. 8, 2023, 12:15-1:15 p.m.
Speaker: Natalia Montoya, MD
Biography: Dr. Natalia Montoya is a family physician and owner of a private clinic for the past twenty years. Her practice has been a Vaccine for Children (VFC) Provider for more than 10 years along with being a VaxCare Partner. Dr. Montoya attended Wichita State University where she earned her Bachelor of Science in Biochemistry. She then attended the University of Kansas School of Medicine in Kansas City. Dr. Montoya then completed her residency at Via Christi Family Medicine.
Learning Objectives:
Understanding vaccine necessity in the clinic setting.
Building the Vaccine for Children (VFC) vaccine framework.
Taming the administrative burden of VFC.
Building and sustaining the Team for Vaccine harmony.
Navigating between Public and Private vaccines.
Webinar 3: Your Guide to the VFC Enrollment Process
Wednesday, February 15, 2023, 12:15-1:15 PM
Speaker: Doug Gruenbacher, MD, Lisa Goins, & Krissi Odell
Biography for Dr. Gruenbacher: Dr. Doug was born and raised in Andale, Kansas. He is a 1995 graduate of Kansas State University and a 1999 graduate of the University of Kansas School of Medicine. Dr. Doug completed his residency at UKSM-W Smoky Hill Family Practice Residency, Salina, Kansas in 2002 in Family Medicine and has been Board Certified since 2002.
Dr. Doug has practiced in Quinter, Kansas since 2002 as a partner at Bluestem Medical and as a staff member at Gove County Medical Center. He also provides care at Sheridan County Clinic. He is a preceptor for the University of Kansas Medical Center in Northwest Kansas preceptorship program and other rural programs associated with medical education in this area. Dr. Doug was selected by the AAFP to be the family physician Torchbearer in the 2012 Olympic Torch Relay in England. He is the recipient of the 2010 University of Kansas Preceptor of the Year Award and is highly involved in the KAFP Faces in Family Medicine program.
Dr. Doug was the 67th president of the Kansas Academy of Family Physicians.
Dr. Doug and his wife, Dr. Shelly Gruenbacher have four children and are involved in various youth sports, church, 4-H, and many other community events. They were a vital part in the building of a community wellness center that supports their love of exercise and pursuit of advocating healthy lifestyles. Dr. Doug is an avid K-State fan and enjoys marathons and snowboarding.
Biography for Lisa Goins: Lisa Goins, RN BSN, Vaccines for Children Coordinator Kansas Immunization Program.
Lisa Goins has worked in public health for more than ten years including providing immunizations, teaching Becoming a Mom classes, serving on the Kansas Maternal Mortality Review Committee and Kansas Birth Equity Network. While at KDHE she has worked as a Medicaid Policy Analyst and currently as the VFC Coordinator.
Raised on a Kansas farm and now a transplant to city living. She enjoys providing preventive and protective health care to all Kansas residents through immunizations. She graduated from Fort Scott Community College in 1989 and completed her BSN in 2020 from Pittsburg State University.
Biography for Krissi O'Dell: Graduated from Pittsburg State University 1998, BSN RN
24+ years primary care/public health experience: Mercy Health System of Kansas, Fort Scott/Arma until closing December 2018, then Crawford County Health Department 2018-2022.
I have experience working with the VFC Program on the provider side for 24+ years, served as a VFC coordinator and back-up coordinator. Started with KDHE in September 2022 as the Immunization Nurse Educator and work closely with staff of the VFC Program.
Learning Objectives:
To understand what the VFC Program is.
To understand the benefits of the VFC Program.
Describe who is eligible to participate in VFC and the
population that is served.
Understand the steps to enroll in the VFC program.