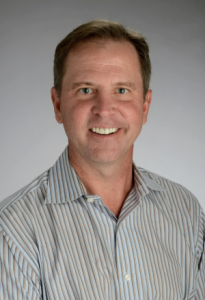 Allen Greiner, MD
Kansas City, KS
The COVID-19 pandemic is changing our world, our profession and the lives of our patients. As health care professionals, we are learning to connect in new ways and find innovative and safe methods to provide care. My involvement in the COVID-19 response and its impact inspiring me to do more. As a family physician and the Chief Medical Officer of the Unified Government of Wyandotte County, I have witnessed first-hand the value that connections between primary care and public health can provide to our patients, our communities, and to the health of the state during the biggest health challenge we have faced in decades.
I'm writing to you today in an effort to secure your support as a "write-in" candidate for Secretary of the Kansas Academy of Family Physicians. As a longtime member of the KAFP, I am a firm believer in the value of this organization for promoting family medicine while also advancing the health and well-being of all Kansans.
My recent involvement with public health and primary care responses to COVID-19 in the Kansas City metropolitan area as well as across the entire state has energized me to seek out new leadership roles and experiences. I have experienced professional challenges and made difficult decisions, that I believe have allowed me to grow as a physician and leader. I believe serving as the Secretary of KAFP will allow me to bring skills and experience to bear in shaping the efforts of an already strong and vibrant organization.
I have been a board-certified family physician since 1998. I completed medical school and residency at the University of Kansas School of Medicine, Kansas City. I completed a primary care research and faculty development fellowship in 1998 -1999 and received my Master of Public Health degree from the University Kansas in 2000.
I believe my diverse experiences will help me in serving family physicians' needs in Kansas. I feel that by working together and striving to promote the innovative strategies that arise out of routine primary care practice, we can and will have a dramatic impact on the well-being of our state in the coming years.
During my career, I have held educational and research leadership roles while maintaining my primary care practice. Many of my patients have been with me since residency and I have attempted to make myself available to them at all times. I believe strongly in continuity and accessibility. I make home visits on a regular basis, I provide ambulatory, inpatient and occasional rural locum tenens care, and I have been providing my personal cell phone to all my patients for over two decades.
I currently serve as the Vice Chair of the Department of Family Medicine & Community Health at the University of Kansas Medical Center on the Kansas City campus. In addition, I have served for 16 years as the Chief Medical Officer for the Unified Government Wyandotte County Health Department. I have served on boards for safety-net clinics and nonprofits in the Kansas City metropolitan area and have been the primary faculty advisor for two separate community initiatives to launch free healthcare clinics. In past years, I chaired the University of Kansas School of Medicine Research Committee as well as the Medical Center Faculty Assembly Research Committee. I was recently asked by Salina Campus Dean Bob Moser to co-chair the Practice-Based Research subcommittee of the newly assembled University of Kansas Rural Health Task Force. This year, I also joined the board of the Kansas Healthcare Collaborative.
I was a co-founder and have served many years as the medical director of the Kansas Patients and Providers Engaged in Prevention Research (KPPEPR) practice-based research network. In this role and in my former role as faculty director of the STORM summer rural program for many years, I have come to know many of the rural family physicians of Kansas. I am always humbled by their commitment to patient care, teaching, and leadership. There is no question that the KAFP has been the catalyst and support structure for generations of family physicians providing top-level primary care, delivering unparalleled community-based medical education and conducting nationally recognized rural research within our state.
My experiences providing healthcare to an underserved population in Wyandotte county while leading research projects in clinics throughout the state has made me cognizant of all the challenges we face in our profession. The current challenges of COVID-19 have highlighted many of the deficiencies within our public health and healthcare systems. Family physicians are the ones who can create unity across these sectors. This challenge has made clear the value that family medicine brings to patients and communities. We are the ones testing patients, caring for them in hospitals, creating guidelines as public health officials, and providing education at all levels of society. Family physicians will help the country through this crisis and the health challenges of the future.
Thank you very much for considering me as a write-in candidate for the position of KAFP secretary! Thank you for all you are doing to improve the health of Kansans every single day!
Kansas Academy of Family Physicians