January 29, 2020
ADVOCACY DAY
9:30 a.m. – 5:00 p.m.
KMS/KAMMCO Bldg
623 SW 10th Ave.
Topeka, KS
Advocacy Day Registration Opens
Welcome, by Sheryl Beard, MD, FAAFP, President Kansas Academy of Family Physicians (KAFP)
KAFP Legislative Priorities Overview, by Dan Dickerson, MD, PhD, FAAFP, Governmental Advocacy Committee (GAC) Chair
Issues Expected to Arise in the 2020 Legislative Session, by Rachelle Colombo, Kansas Medical Society (KMS) Executive Director and Director of Government Affairs and Dodie Wellshear, KAFP Government Relations Liaison
Tobacco 21, by Lee Norman, MD, Kansas Department of Health and Environment (KDHE) Secretary
Tenants of Tobacco 21 legislature
Impact of lack of access to pharmaceuticals to treat nicotine-addicted teens
Medicaid Expansion, by Kansas Legislature Research Department
Comparison of house bill passed last year and proposed Senate plan
Lunch, leave for the Capitol following lunch.
Break, return from Capitol to KAMMCO Building
Immunization, Julie Wood, MD, MPH, FAAFP, Senior Vice President for Health of the Public, Science and Interprofessional Activities, American Academy of Family Physicians (AAFP)
National legislative policies regarding immunization requirements and patient rights of refusal
Updates regarding Hilburn Case, Kurt Scott, President & CEO, KAMMCO
Kansas Policy Makers' Perspectives, TBA
HOTEL
Topeka Courtyard Marriott
2033 SW Wanamaker Rd.
Topeka, KS 66604
Guests may also call the hotel directly at 785-271-6165 and mention the "Kansas Academy of Family Physicians" or "KAFP" group block.
Room Rate: $126 + tax Reservation Deadline: January 1, 2019
Text Message Action
Text "AAFP" to 50457
Sign up to receive text alerts from the Family Medicine Action Network.  Receive links to Speak Out's and grassroots advocacy actions!
Give to AAFP's FamMedPAC
Text "FAMMEDPAC" to 41444
Giving to FamMedPAC has never been easier!  Text "FAMMEDPAC" to 41444 to receive a link to donate right there on your phone.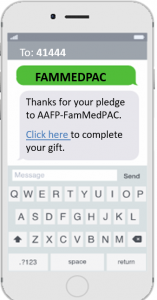 Click here to add your own text