District 5 Candidate
To represent Chase, Clay, Cloud, Dickinson, Ellsworth, Geary, Harvey, Jewell, Lincoln, Marion, McPherson, Mitchell, Morris, Ottawa, Republic, Riley, Saline, and Washington counties.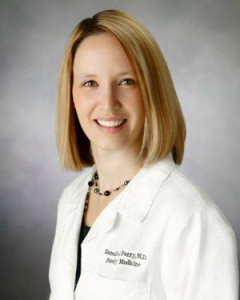 Danelle Perry, MD
Manhattan, Kansas
I am Danelle Perry and would like to serve as a District 5 Director to the KAFP board. I graduated from the University of Kansas School of Medicine and completed residency at Via Christi in Wichita. I currently practice at Stonecreek Family Physicians in Manhattan. My husband Daniel is a general surgeon and we have two children, Noah and Lauren.
As a family physician I believe that our patients are our first priority. I feel that working on the KAFP board will give me the opportunity to work on issues that align with that priority. Medicaid expansion and raising the age to purchase tobacco are two things that I look forward to achieving.
I have had the wonderful opportunity to serve as District 1 Director in the past. As District 5 Director I would relish the occasion to bring your ideas to the KAFP Board and will work hard to see goals achieved.
Kansas Academy of Family Physicians