District 3 Candidate
To represent Sedgwick County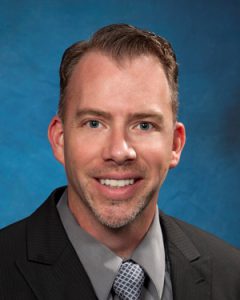 Dirk Smith, MD, FAAFP
Wichita, Kansas
As a family physician who was born and raised in Wichita, Kansas, I would be honored to have the opportunity to support and serve as a representative for District 3 for the Kansas Academy of Family Physicians. I grew up in West Wichita where I attended and graduated from Northwest High School. My education continued at the University of Kansas for undergraduate studies as well as at the University Kansas School of Medicine - Wichita. I returned to Kansas to practice in Arkansas City, Kansas, for 7 years before returning to Wichita where I have practiced for the past 11 years except for a short 2 year locum tenens in Indiana. Because of my longstanding history of being both a patient and a practicing physician of the Sedgwick County community, having a history in serving in various leadership and representative roles in administrative as well as in care settings, and sharing the perspective of both rural and urban/ suburban family physicians, I believe that I would be a good candidate to serve the family physician community of District 3 for the Kansas Academy of Family Physicians.
As your representative of District 3, my goal would be to represent and support the interests of my colleagues through policy advancement, education and legislative influence in congruence with the Kansas Academy of Family Physicians. I hope to be able to serve our community through this position in advocating for population health policies that support and encourage healthy lives for the diverse population of Kansans in District 3 and throughout the state. Also, I would hope to continue to offer support and insight regarding those policies and procedures which facilitate the provision of patient care, enhance our ability to practice patient-oriented, cost-effective care, and remove barriers and hindrances to the provision of that care. Finally, my goal would be to be an advocate and voice for all family physicians from District 3 and to represent your ideas and concerns to the Kansas Academy of Family Physicians.
I appreciate your time and consideration in selecting a District 3 representative for the Kansas Academy of Family Physicians.
Kansas Academy of Family Physicians