District 3 Candidate
To represent Sedgwick County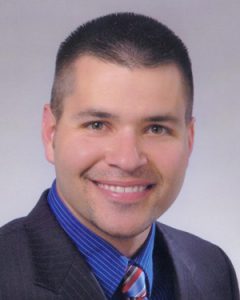 Doug Nunamaker, MD
Wichita, Kansas
Given my love of science and medicine, I knew I wanted to be a physician early in my life. I attended Pittsburg State University for undergraduate training and then proceeded to the University of Kansas School of Medicine, graduating in 2006. I completed my family medicine residency at Wesley Family Medicine in Wichita, Kansas graduating in 2009. Immediately following graduation, I joined the Wesley hospitalist group where I served for two years. During that time, I helped found AtlasMD, the first Direct Primary Care (DPC) clinic in Wichita in 2010. During residency and private practice, I've worked in multiple emergency departments around Kansas including Dodge City, Independence, Andover, El Dorado and McPherson.
While in residency, I was a voting member of the Wichita Center for Graduate Medical Education Resident Council. I have been deeply involved with the DPC movement and have presented on the topic on several occasions. I was invited to speak at the AAFP Scientific Assembly/FMX conferences in 2013, 2015 and 2016 for DPC. I was also a participant in the Future of Family Medicine 2.0 meeting in San Diego in 2014. My work with DPC has been featured on television, radio, and with addition of several magazines including Bloomberg Businessweek and TIME. I believe my experience with DPC can add a unique and valuable perspective to the KAFP Board's discussions. I continue to be active as an associate faculty member of KU Med Wichita for students, and regularly host residents both locally and from around the country. I served as an Honorary Commander with McConnell Air Force base for three years acting as a link between the local medical community and the medical unit on base. I will continue to do this as a Friend of McConnell.
I grew up in Baxter Springs, KS and Manhattan, KS so I have seen healthcare in both small town and urban settings. My father was a hospital administrator for nearly 40 years in those towns and I was able to observe and integrate much of what he did into my own understanding of the practice of medicine. Growing up seeing the business and administrative side of healthcare has been a relatively unique experience that allowed me to see how healthcare impacts patients, physicians and hospitals. Being able to consolidate information I have gained as an outpatient, inpatient and emergency room physician will allow me to best serve my local district at the state level. I have lived in Wichita for 15 years and in that time I have gotten married, started a family, and also a DPC clinic. I am well established in my district and will continue to pursue the best interests of the family physicians and patients I represent. I have been a strong proponent of alleviating the cost disparities for those without insurance and lack of access to affordable medications. If elected, I will push for better use of available resources to minimize waste and maximize access and treatment(s) for Kansans.
Kansas Academy of Family Physicians