District 1 Candidate
To represent Johnson & Wyandotte counties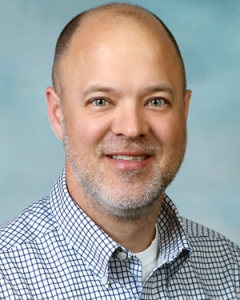 Keith Ratzlaff, MD
Olathe, Kansas
As an active Family Physician for 15 years, I have experienced the rollercoaster ride of community medicine in the outpatient, inpatient and obstetric realm. By serving on a variety of boards and committees, I have helped shape policies and procedures to care for patients in Olathe and the Kansas City area.
Over the last year, I have been your District 1 Director and have had the privilege to attend all of our board meetings, including traveling to Dodge City. I have the utmost respect for our physician leaders that serve the rural majority of Kansas counties. The KAFP has been introduced to challenging topics, such as Proposition 402 (the AAFP's new position on Medical Aid in Dying). We are working hard to represent our physician members' stance on this difficult topic. January's Advocacy Day was a success. Hopefully with KAFP member support the legislators will work to raise the tobacco purchase age to 21 and continue to require pharmacists and nurse practitioners proper physician oversight.
Kansas Medicare and Medicaid policies and coverage is essential for some of Kansas' most medically complicated patients. With geographical and social barriers, innovative ways to deliver care (including mental health) and proper use of ancillary services such as hospice/home health is vital.
Most physicians face daily challenges and frustrations that can make caring for their patients difficult; however, the practice of medicine is still rewarding and exciting. The time spent with prior authorizations and other barriers to patient care, is less exciting. We have to push insurance to work with us, not against us.
I am proud to be a lifelong Kansan, born in Wichita and calling Kansas City home for over 25 years. As the largest metropolitan area in Kansas, we have a lot to offer (Go Chiefs and Royals)! We need to continue to support our rural physician colleagues with tertiary specialties and maybe find other ways to support them. So many small towns are looking for qualified family physicians, how can we help? It would be my privilege to continue to support and serve both family physicians and patients of Kansas as District 1 Director for KAFP.
Kansas Academy of Family Physicians