District 7 Candidate
To represent Clark, Finney, Ford, Grant, Gray, Greeley, Hamilton, Haskell, Hodgeman, Kearny, Lane, Meade, Morton, Ness, Scott, Seward, Stanton, Stevens, and Wichita counties.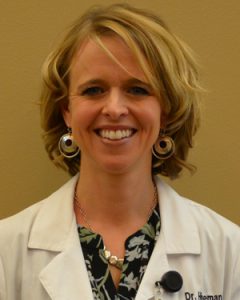 Elizabeth "Libby" Hineman, MD
Scott City, Kansas
Over the last 12 years as a practicing rural family physician, I have experienced the true joy of caring for my surrounding community with full spectrum family medicine. I have found this profession to truly be the call to serve that I envisioned it to be so long ago. It's amazing to me that we, as family physicians, are of the privileged few in medicine who embody so many pieces of health for our patients and our communities. We are often the initial contact to heath care for our patients, and we are responsible for not only the treatment, but prevention of disease in all stages of life. As such, we are a vital component of a healthy community and state. If we do our jobs well, we can make huge impact on our cities and towns with our knowledge and commitment to health.
A few years into my practice, I was able to serve as your District 7 Director. I felt this was important, as it is not enough to just care for our patients directly, but to also be an active participant in the community around us. Part of that means advocating for family medicine at local, state and national levels. I thoroughly enjoyed the time I was able to serve and participate in all that KAFP does to serve our profession.
Several years ago, I stepped back to focus on my growing family and our community, as well my role as one of the three full time family physicians in our county. It has been a time of great joy and also great frustration. Facing the many challenges we all see day to day that place barriers in front of us as we care for patients has been at times demoralizing. This is why I am excited to work toward a larger involvement in advocating for our profession at a state level. Expanding Medicaid, working to raise the tobacco purchase age to 21, ensuring proper oversight of our ARNP and pharmacy colleagues, and finding innovate ways to deliver care in our rural areas are all issues that are important and KAFP has been there to work to support these issues.
I am honored to be nominated and would appreciate your support to represent District 7. Thank you for your consideration.
Kansas Academy of Family Physicians