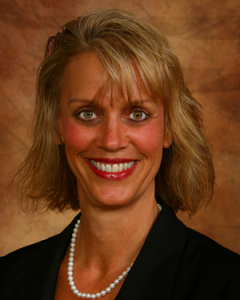 Debra Doubek, MD, FAAFP
Manhattan, Kansas
It is an honor to be asked by the nominating committee to run for Secretary of the Kansas Academy of Family Physicians. To understand me, you need to understand my background.
I was born and raised in Belleville, Kansas, a town of 2,500 people. Belleville is the county seat of Republic County, in North Central Kansas. I grew up the middle child in a very happy, active rural household. My father is a Family Physician, and he was the all-encompassing rural doctor who did everything when he set up practice in Belleville in 1957. There were only four physicians in the entire county, so my father delivered thousands of the babies in the county over his 40 years of practice there. He performed many of the surgeries in the county, was the county coroner for 35 years, a school board member for 16 years, was the school sports physician, and was and is still very active in the Lutheran church.
I went into college, met my wonderful husband-to-be (married for 34 years currently), and spent 10 years at KU Med in training, residency, fellowship, and serving as Assistant Clinical Professor in the department of family practice. I love to teach. I have practiced full time as a family physician in Manhattan, Kan. for the past 26 years. I own my private practice consisting of 10 busy family physicians and three mid-level practitioners. I have two boys in the medical field. Nathan—who has a Master's degree in Health Care Administration, and Neil, who is a fourth year medical student at the University of Kansas Medical School in Kansas City.
In this climate of rapidly changing medicine, leadership in this organization continues to be vital. I feel this is a skill I can bring to the KAFP organization. I have had leadership grooming at our local level as Chair of the Family Medicine/Internal Medicine department for four years. I served on the Board of Directors of the Via Christi Accountable Care organization for one year. I just finished a one-year term as Chair of the Board of Directors for the Kansas Healthcare Collaborative. I currently serve as our local Ascension/Via Christi Risk Coordinator. My job description is to help manage conflict, and enforce our local medical staff's behavior policy. This requires some serious mediation and leadership skills! Also, I have served as President of the Kansas Medical Society in 2005-2006, the organization of all specialties of around 6,000 physicians practicing in our state.
My goal of becoming an officer would be to uphold and fulfill the KAFP mission statement of supporting and serving family physicians of Kansas as they advance the health of Kansans. Another goal is to step up as leader and help with the transition of our new Executive Director as he/she transitions into our organization. My vision is to engage our 1,000 plus members to build on their talents and interests in order to keep the KAFP leadership, philanthropy, and advocacy areas strong. This will result in a solid financial base, in creating leadership, and building a pipeline for future family physicians.
Winston Churchill said, "We make a living by what we get, but we make a life by what we give." I hope that you will allow me to give my time and leadership skills to serve as Secretary of the Kansas Academy of Family Physicians.
Kansas Academy of Family Physicians