CME Session Catalogue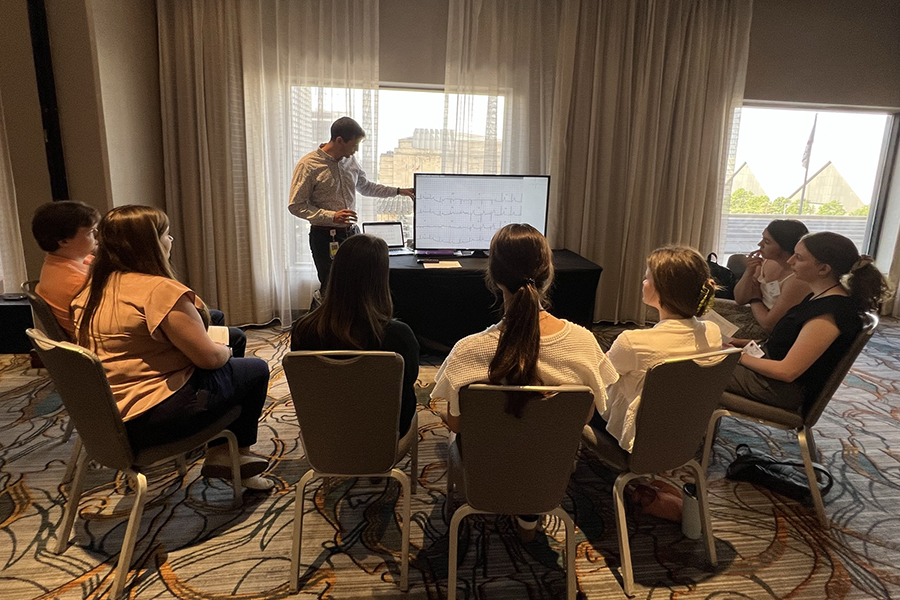 The KAFP and CAFP's Professional Development Committees are excited to present a slate of high-quality, timely CME sessions for Mid to West Rural Health Equity Summit attendees. Below you will find descriptions of the learning objectives of each session.
Innovative & Collaborative Care Teams
45 minutes | Thursday, Oct. 6; 8-8:45 a.m.
Speaker(s): Jeremy Presley, MD, FAAFP
Description: Showcase how incorporating collaborative care teams into rural practice can increase quality care, patient satisfaction, and/or impact health outcomes. Discuss why it's important to spread the work around particularly in a rural or underserved community and discuss the workload benefits this provides for the physician, i.e., burnout.
Engaging with other Specialties to Improve Patient Care
45 minutes | Thursday, Oct. 6; 8:45-9:30 a.m.
Speaker(s): Beth Oller, MD, FAAFP and Jeff Curtis, MD (Cardiology)
Description: What do other Specialists want family physicians to know and do throughout the referral process. When to make the referral, what tests and labs to run in advance, partnering with the specialist during patient care, and co-managing patient care during treatment and follow-up. Discuss ways to develop those working relationships and discuss best practices, lessons learned, success stories, and/or the hurdles that you had to overcome.
Telehealth & Patient Care Resources in Your Community
60 minutes | Thursday, Oct. 6; 10-11 a.m.
Speaker(s): David Jordan, CEO, United Methodist Health Ministries Fund and John Fitzpatrick, Community Health Strategist, KC Digital Drive
Description: Gain a better understanding of Kansas providers and patients experience with telehealth, including what procedures may be best suited for telehealth. Discuss policies and programs needed to support broader usage of telehealth and continuation of telehealth post public health emergency wind-down, including payment parity, device flexibility, originating and distance sites, and consumer assistance care-coordination, and discuss how telehealth fits in with evolving care delivery practices in rural communities.
Innovative Technologies in Rural Health / eConsultation
30 minutes | Thursday, Oct. 6; 11-11:30 a.m.
Speaker(s): Katie McGarry, DNP, RubiconMD
Description: Understand patient barriers to accessing specialty care today and how the traditional referral system can lead to gaps in care, understand innovative technologies that surmount such barriers and improve the quality of referrals for rural patients, and understand clinical opportunities to leverage eConsults to improve patient outcomes and experience while often lowering their costs.
Welcome Address & Legislative Issues Impacting Rural Family Medicine
30 minutes | Thursday, Oct. 6; 11:30 a.m.-noon
Speaker(s): Jennifer Bacani McKenney, MD, FAAFP and Ryan Biehle, Executive Vice President & CEO, CAFP
Description: Describe the current landscape of legislative efforts to address rural health issues, identify policy options to address rural workforce shortages and the comprehensiveness of family medicine in rural communities, and interpret rural policy challenges and opportunities for policymakers and community leaders.
Grassroots Advocacy
45 minutes | Thursday, Oct. 6 12:30-1:15 p.m.
Speaker(s): Sage Bauer, AAFP, Chad Johanning, MD, FAAFP, and Erica Pike, MS
Description: Recognize the value of advocating for policies that have a direct bearing on a physician's ability to deliver patient care, and directly support the profession of family medicine. Learn about the various programs that the AAFP offers to help physicians engage in advocacy. Develop strategies to effectively communicate the need for policies that address public health challenges. Discuss resources available at AAFP for current and relevant data, emphasizing the member's district/service area. Understand the importance of engaging in the policy conversation as a constituent – in the role of service provider, employer, and voter, and identify ways members at any level of involvement can start their grassroots advocacy efforts.
Physician Wellness: How to Avoid Burnout When You're the Only Game in Town
45 minutes | Thursday, Oct. 6; 1:30-2:15 p.m.
Speaker(s): Stacy Dashiell, MD, FAAFP
Description: Identify the reasons behind physician burnout before and after the COVID-19 pandemic. Explain how physician and healthcare worker well-being must be prioritized to improve patient care and outcomes; prioritizing care for oneself is an effective means of caring for others. Help rural family physicians understand the financial impact on their practice when they don't care for their own physical and mental health. Introduce resources available to support rural family doctors' well-being and discuss the role collaborative care teams can play in improving physician and employee well-being.
Breaking Down Barriers for OB/GYN Care in Rural Communities
45 minutes | Thursday, Oct. 6 2:45-3:30 p.m.
Speaker(s): Jenna Sloan, MD, FACOG; Anna Rempel, MD
Description: With family doctors often being the only access to OB/GYN care in rural communities, what technologies can further support family docs in providing this care? Discuss productive, collaborative relationships with OB/GYN's in other communities and how to cover maternity care with locums, residents, etc.
What's Unique to the Rural Physician Toolbox?
60 minutes | Thursday, Oct. 6; 3:30-4:30 p.m.
Speaker(s): Marc Stephens, DO, FAAFP, Michael Kennedy, MD, FAAFP; Christine Donnelly, MD, FAAFP, Doug Gruenbacher, MD (Moderator)
Description: Panelists to present on unique patient presentations to understand how rural medicine is impacted by limits of resources, develop strategies on how to mitigate resource limitations and maximize resources, develop a mindset of creativity and tenacity when facing a patient care problem, and discuss lessons learned.
Addressing Health Disparities of Marginalized Persons in Rural Communities
45 minutes | Thursday, Oct. 6; 4:30-5:15 p.m.
Speaker(s): Aline Hansen-Guzman, MD
Description: The Healthy People 2020 definition of health equity: "The attainment of the highest level of health for all people. Achieving health equity requires valuing everyone equally with focused and ongoing societal efforts to address avoidable inequalities, historical and contemporary injustices, and the elimination of health and health care disparities." This session aims to address the unique needs of patients in rural and frontier communities and the resources family physicians serving these communities need to utilize to address health equity and result in better health outcomes.
Physician Retention
30 minutes | Friday, Oct. 7; 8:45-9:15 a.m.
Speaker(s): Benjamin Anderson, MBA, MHCDS
Vice President, Rural Health and Hospitals, Colorado Hospital Association
Description: Discuss solutions in retaining health care professionals in rural communities; Physicians, nurses, and mid-levels, discuss what keeps them in the job and what drives them away from the job, discuss if there is a gap in resources (like childcare, continuing ed options, or pay) that cause the workforce to turn over and how to identify and address gaps in resources.
Practice Management for the Rural Family Physician
30 minutes | Friday, Oct. 7; 9:15-9:45 a.m.
Speaker(s): Cooper Nickel, MD, CPC, CPB, CRHCP
Description: Identify common pearls and pitfalls of practice efficiency, understand the updated Evaluation and Management guidelines to decrease your documentation burden, understand current trends in compensation structure to identify ways to optimize your earning potential, and identify essential aspects of personal finance and how your benefits play a role.
Physician Recruitment to Rural Communities
60 minutes | Friday, Oct. 7; 10-11 a.m.
Speaker(s): Benjamin Anderson, MBA, MHCDS
Vice President, Rural Health and Hospitals, Colorado Hospital Association
Description: Review AAMC annual workforce report and discuss what the potential outcomes and implications are related to forecasting, and what we can focus on to "sweeten the deal" for a new physician joining a practice in a rural setting.
The Future of Family Medicine
60 minutes | Friday, Oct. 7; 11 a.m.-noon
Speaker(s): David Jordan, CEO, United Methodist Health Ministries Fund
Jennifer Findley, Vice President, Education and Special Projects, Kansas Hospital Association; Bethany Enoch, MD, FAAFP, Associate Program Director, Community Health Center of Southeast Kansas; Lynn Fisher, MD, FAAFP; Jennifer Bacani McKenney, MD, FAAFP (Moderator)
Description: What is next for rural family medicine? Where is the future rural workforce and how do we get them interested in rural medicine? Understand workforce issues in Kansas affecting Healthy People 2030, access resources for serving care deserts in their communities and how to collaborate with other healthcare specialists, and utilize financial and legislative resources to provide healthcare to underserved families and communities.
Wrap Up & Next Steps: What did I learn and how to apply it
15 minutes | Friday, Oct. 7; noon-12:15 p.m.
Speaker(s): Jeremy Presley, MD, FAAFP
CME Goal: Wrap up the Health Equity Summit and help learners identify "next steps" they can take after they leave the conference. Discuss what they learned here that they can implement now, who do they potentially need to engage with to help do the bigger work, and identify what resources might they need to seek out in their communities or region to do this work.